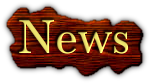 ---
For Useful links click here.
Current News:
On the evening of February 11, 2014 Deputies of the Furnas County Sheriff's Office went to a residence located in the 300 block of Norwich in Holbrook, Nebraska to attempt to serve a Red Willow County arrest warrant of a person believed to be at the residence. Upon arrival at the residence Deputies observed a male subject later identified to be Tyler D. Wilcox, 35 years old, of Holbrook, Nebraska smoking methamphetamine in the living room of the residence. Deputies entered the residence. Upon entering the residence Wilcox attempted to destroy the drug paraphernalia that he was smoking from. Wilcox was placed under arrest for tampering with physical evidence and the Red Willow County arrest warrant. Evidence was collected and sent to the crime lab to verify the presence of methamphetamine. A search of the residence for other person was conducted and additional drug paraphernalia was located. A search warrant was obtained for the residence and executed. Marijuana was located in the pocket of the owner of the residence, John M. Warburton, 35 years old, Holbrook, Nebraska Warburton was issued a citation for possession of drug paraphernalia and possession of marijuana less than one ounce. Mr. Wilcox is currently incarcerated and awaiting arraignment scheduled for February 24, 2014. Mr. Wilcox's bond has been set at $10,000 subject to 10 percent.

On February 15, 2014 the Furnas County Sheriff's Office received a request from the Harlan County Sheriff's Office to conduct a welfare check on four children ranging in age from 10 to 14 years old. The children were believed to be located at a residence in Beaver City in the 600 block of 12th Street, Beaver City, Nebraska. Information received indicated that Jerry J. Wray, 37 years old, of Riverdale, Nebraska had left his children unattended. A Furnas County Deputy responded to the residence and located the four children. While at the residence it was observed there was no heat or electricity. Also observed were items of drug paraphernalia. The children were removed from the residence and placed with their mother. Later a search warrant was obtained, upon diligent search of the residence additional items of drug paraphernalia were located. A preliminary field test was conducted with a positive result indicating the presence of methamphetamine. Mr. Wray was arrested for felony child abuse as well as charges steaming from another case consisting of trespassing and burning without a permit.
Previous News:
2013
2012

---