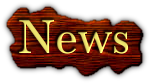 ---
For Useful links click here.
Click here for photos of our staff at work!
Current News:
May 5, 2014
On April 27, 2014 at approximately 1:37 pm the Furnas County Sheriff's Office received a report of a burglary that had occurred at Stanley's Sprits, 903 O Street, Beaver City, Nebraska.
A Deputy from the Furnas County Sheriff's responded to Stanley's and met with the reporting party.  It was reported that between the hours of 10:20 pm on April 26 and 1:15 pm on April 27, 2014 someone had broken into the back door of Stanley's Spirits and stolen alcohol and cigarettes valued at $735.44.
On April 29, 2014 Richard D. Talbott, 22, of Beaver City turned himself into the Furnas County Sheriff's Office for the burglary.  Talbott was arrested and booked into jail for burglary.
After further investigation the same day, Ethan M. Geise, 18, of Beaver City was arrested and jailed for two counts of burglary and minor in possession of alcohol.
Both Talbott and Geise attended court and were arraigned on charges.  Talbott was arraigned on one count of burglary.  Geise was arraigned on two counts of burglary, one count of minor in possession of alcohol and one count of criminal mischief.
Talbott and Geise are scheduled for preliminary hearings on Monday, May 12, 2014 at 10:30 am.  At the time of press release both Talbott and Geise remain in jail on a bond set at 10% of $50,000.
Previous News:
2014
2013
2012

---